Specifications:

Brand:OriPure .

Type: Double Coil Humbucker Guitar Pickup .High Quality Handmade Pickup.

Fit For Electric Guitar or Similar Guitar.

Model: PHZ2.

Tones Features : Bright,Mellow,Sweet,Clean,Crisp Sound.It is built on the steady aesthetic of vintage tone, while having the sharpness and freshness of modern rock.

​Position: Neck  / Bridge for your choose .

Color :Zebra /White /Black Colors Choose.

Magnet: Alnico 2.

Pole Pieces:6 Non-Adjustable Slug Pole Pieces & 6 Adjustable Screws Pole Pieces.

Pole Spacing: 50mm(Neck), 52mm(Bridge).

Resistance: approx. 7.6K(Neck)  ; 8.5K(Bridge).

Inductance: approx. 3.8H(Neck)  ;  4.8H(Bridge)

Based on the frequency ratio of each pickup per se :  

Neck Pickup: Treble-45%; Middle-35%; Bass-15%.

Bridge Pickup: Treble-40%; Middle-30%; Bass-30%.


Baseplate: Copper .

Output line: 4-Conductor PVC Cable to Facilitate Complex Pickup Switching Setups.

Fully Wax Potted and Sealed.


Each Pickup Includes Screws and Springs.
Note: 
All parameters for reference, the actual may be a bit deviation. The actual effect of tone will be a little different from different guitars or related equipment.

The DC Resistance we marked will change due to the difference in ambient temperature, and the range of change will reach 500Ω. In case of extreme temperature, the range of change will be greater. 
 SKU: M00244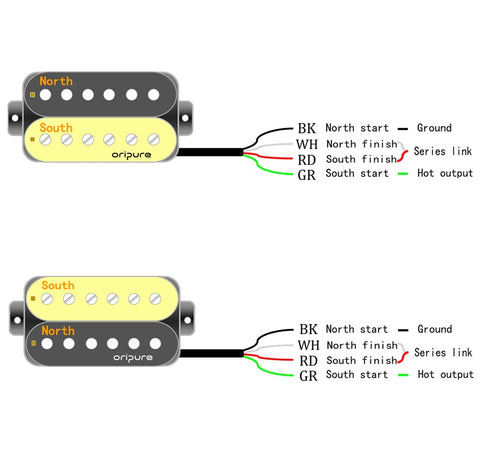 Impressive pickups
These are fantastic for this price, well made, nice packaging, great sound. They have that distinct humbucking tone with all the clarity and brightness you would expect from alnico 2 vintage pups. The dc resistance reads exactly as advertised, these are true vintage humbuckers, not modern "hot" or overwound ones. If you don't care for big brand names but simply need good pickups for upgrading inferior or dull sounding ones or for a DIY project, this is a sweet deal.